Now Frontier is an MFA Thesis exhibition that explores the tension between craft and contemporary digital technology as manifested in wearable technologies. Through research and creative production I investigate and problematize binary oppositions often associated with craft and contemporary digital technologies. Casting myself as a central character – time traveller and mad scientist – in these works allows me to interrogate and construct a Time Machine Suit utilizing electronics, craft materials, and my own labour in ways that narrate both an autobiographical and speculative futures.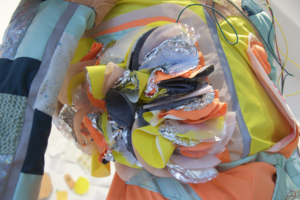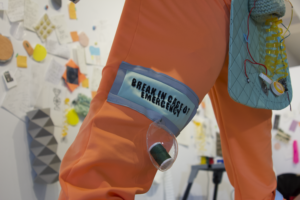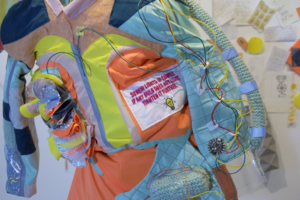 The Time Machine Suit is constructed using craft processes and domestic materials combined with technology. Woven with plastic grocery bags, embroidered technobabble instructions and warning symbols, replete with microcontrollers and wires, the suit provides functions imagined as necessary to the wearer for time travel while also protecting the body to withstand the unknown conditions of time travel. The the use of craft materials and processes such as embroidery, knitting, felting, and weaving imagined as possessing time travel capabilities poses as an alternative to the conventional image of technology and time machines. I have co-opted the word machine by juxtaposing expected technological imagery – cold, hard apparatus, automation, controlled and efficient movement­ with warm, soft apparatuses created through slow artistic labour. The meaning is formed through this juxtaposition, a blurring of material and immaterial, meatspace and cyberspace, male and female, antiquated and innovative.
The bricolage approach to the construction of the Time Machine Suit, as mentioned above, points to a do-it-your-self narrative concerning craft processes and the use of microcontroller technology. This technique and use of materials results in a softening of the time machine, and could be read as cozy cyborg.